How to purchase a ticket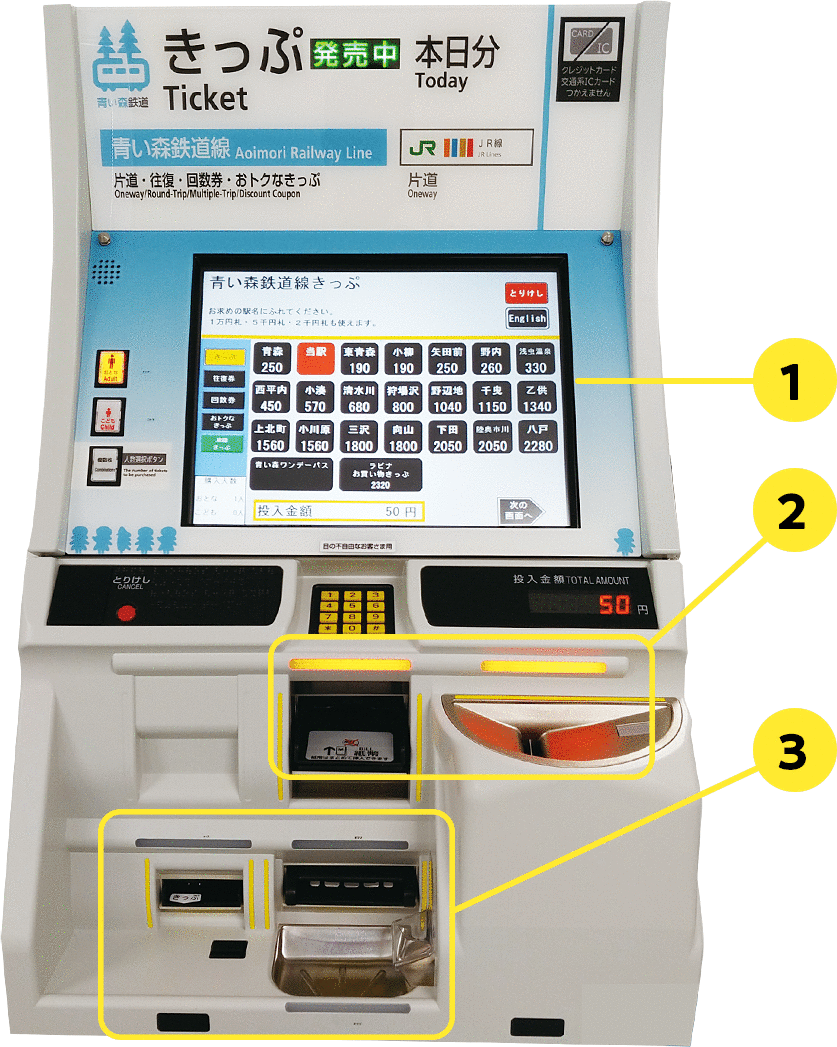 Tap the buttons on the screen to operate.
Tap the button corresponding to the station you are heading to.
Insert the fare amount. Large denomination bills also accepted. Credit cards and IC cards used for transportation cannot be used.
You will be issued with a ticket. Don't forget to take any change returned.
To print out a receipt, tap the Receipt button displayed on the bottom right of the screen. The receipt will be issued after you take your ticket.
Round trip tickets and coupon tickets are also available for purchase.
Tap the Round Trip or Coupon Ticket button on the screen.
To purchase a ticket for JR lines, tap the JR Ticket (in green) button displayed on the left side of the screen.
The first screen will only show stations between Aomori and Hachinohe.
To purchase a ticket for stations between Kitatakaiwa and Metoki, and platform tickets, tap the Next Screen button on the bottom right of the screen.
Note that stations on the IGR line will be displayed after Metoki at Hachinohe, Kenyoshi, and Sannohe station.
Stations with ticket machines
Aomori, Tsutsui, Higashi-Aomori, Koyanagi, Yadamae, Nonai, Asamushi-Onsen, Kominato, Noheji, Ottomo,Kamikitachō, Misawa, Shimoda, Mutsu-Ichikawa, Hachinohe, Kenyoshi, Sannohe